Form Drawing for Teachers
The How, the Why, and the When of a Linear Language of Form in Education
 Artist, Author, Educator
Hawaii, USA
9:30 AM – 11:30 AM (Indian Standard Time)

In Asia:

February 19,26 & March 5,12,2023,Sundays
In USA:

February 18,25 & March 4,11,2023,Saturdays
"We must begin with inner, not outer perception, by stimulating in the 
child
a strong 
sense of symmetry. Even in the case of the very
 youngest
children we can begin to do 
this. 
For example: we draw
 some 
figure 
on 
the blackboard and indicate the beginning of 
a 
symmetrical line.
Then we try to make the child realise that 
the figure is not complete;
they must find out how to complete it.
In this way, we awaken an inner,
 active urge in 
the child to 
complete something as yet unfinished.
This helps them to express 
an 
absolutely right conception of 
something 
that is a reality.

The teacher, of course, must 
have inventive 
talent
but that is always
a very good thing. 
Above all else the teacher 
must have 
mobile 

inventive
thought." – 
Rudolf Steiner, A Modern Art of Education
What is the underlying importances of Form Drawing?
How does it benefit the growing child? 
Why is it taught in Steiner-Waldorf schools and when (at what grade levels) is it appropriate and most beneficial?
We will address these questions and many more in this practical online art course for teaching children the creative art of form drawing. 
For class teachers, homeschool parents, art instructors, art therapists and educational specialists. 
No experience necessary.
For those interested, a recording of the weekend course will be replayed during the following week.

A Certificate of Attendance by Nurturer'Studio will be given, if all the four sessions have been attended live and the work is submitted on Padlet.
Fee: Rs.10,656 = $160 USD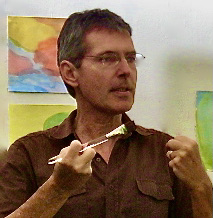 Van James is an artist, author, Steiner-Waldorf educator and international advocate for the arts (https://vanjames.smugmug.com/). A longtime teaching-artist in Hawai'i and a mentor for Gradalis Teacher Education. Van is a council member of the Visual Art Section of North America, a mentor with the Academy of Himalayan Art and Child Development, editor of Pacifica Journal, and an award-winning author of numerous books on culture and the arts including Drawing with Hand, Head and Heart, The Secret Language of Form: Visual Meaning in Art and Nature and the recently published Teaching Art History: Engaging Adolescents in Art, Cultural History and the Evolution of Consciousness.
 (Click here for Van's YouTube Channel  on painting)