The Art and Individuality of Color
An Introduction to the Color Theory, Painting Indications and Training Sketches of Rudolf Steiner
Paintings by Henny Geck based on Rudolf Steiner sketches
"The special feature in painting is that the element of spiritual seeing and of artistic creativity come in contact with each other… Perhaps in nothing as much as in the deepening in such problems as the mystery of color can we celebrate our most intimate uniting of the soul with spiritual science. For we rise truly, when we participate in the living flood-tide of color itself, we rise truly out of ourselves and participate in cosmic life. Color is soul of nature and of the entire cosmos, and we participate in this soul when we experience color." – Rudolf Steiner
Live Dates & Times (Indian Standard Time)
1, 8, 15, 22, 29 August, 2021 (Sundays)
9:30 – 11:00 AM + 30 mins extra for Certificate Students 
These five online sessions will give an overview of Rudolf Steiner's theory of color and his radically new approach to painting, beginning with indications for the First Goetheanum cupola paintings and artistic training sketches. Working in pastel and/or watercolor we will explore these themes by way of lecture, demonstration, conversation and engaged studio painting. 
Who is this course for: Art students, Teachers, Therepists, Artists and anyone interested in Art. 
Course Level: Beginners and Advanced, anyone who is moved by Art is most welcome. 
Preparations: Have painting paper, other painting material and soft pastels available and a clear working space beside your computer for this session.
Regular Program
Fee: Rs.7360 = $115 USD
Certificate Course
Actual Cost: Rs. 22,350 = $300
Nurturer'Studio Price Rs.12,500 = $195*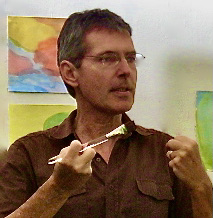 Van James is an artist, author, Steiner-Waldorf educator and international advocate for the arts. A longtime teaching-artist in Hawai'i, he is a council member of the Visual Art Section of North America, a mentor with the Academy of Himalayan Art and Child Development, editor of Pacifica Journal, and an award-winning author of numerous books on culture and the arts including Painting with Hand, Head and Heart: A Natural Approach to the Art of Painting.