The Nine"Nature Mood"Training Sketches for Painters
by Rudolf Steiner
Sketches by Rudolf Steiner 
 When asked if he would renew the art of painting out of spiritual-scientific insights, as he did with eurythmy for the art of dance, Rudolf Steiner gave nine "Nature Mood" sketches saying:
"Try starting like this…" 
We will follow up on our last course, The Art and Individuality of Color: Rudolf Steiner's Color Theory and
his Painting Indications for Artists, and go deeper into these color indications by taking up the nine training sketches as a starting point for a renewed art of painting. 
"If we were to speak more deeply of painting, the significance of the connection between the inner soul-life of the universe and color would reveal itself. It would be meaningless ever to paint with colors, if colors were not something very different from what they appear to be to outer physical perception…
Color is the language of nature's soul, the speech of the soul of the universe."—Rudolf Steiner
December 5,19,
January 2,16,30 & February 13
9:30 -11:00 AM (Indian Standard Time)
  Fee: Rs.13,350 = $200 USD
 It is recommended, but not necessary, to have taken the previous course and beginners are welcome. Six, one-and-a-half-hour sessions will include illustrated lectures, demonstrations, studio art sittings and question and answer periods. Sessions will occur every other weekend in order that participants may have sufficient time to complete the watercolor painting exercises. Participants will gain practical experience and understanding in "painting out of the color" and will receive a certificate of completion upon submission of all the assigned painting exercises.Attendance of at least three live sessions is compulsory  for certificate participants. 
Who is this course for: Art students, Teachers, Therepists, Artists and anyone interested in Art and especially Rudolf Steiner's impulse in Art.
Course Level: Beginners and Advanced, anyone who is moved by Art is most welcome.
Preparations: Have painting paper, other painting materials available and a clear working space beside your computer for these sessions.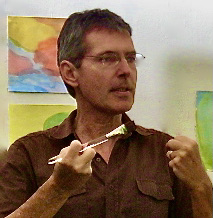 Van James is an artist, author, Steiner-Waldorf educator and international advocate for the arts. A longtime teaching-artist in Hawai'i and a mentor also for Gradalis Teacher Education. Van is a council member of the Visual Art Section of North America, a mentor with the Academy of Himalayan Art and Child Development, editor of Pacifica Journal, and an award-winning author of numerous books on culture and the arts including
Painting with Hand, Head and Heart: A Natural Approach to the Art of Painting.